The Covid-19 Pandemic has impacted everyone in unique ways. We continue as a community to work together to make the best of the current situation and what it may bring us.

For 2020-2021, we plan to open face-to-face. We have adapted our classrooms and lessons to encourage social distancing. Our teachers and assistants will be wearing face shields. We are continuing our stringent classroom cleaning procedures and updating these as suggested by the Pierce County Health Dept.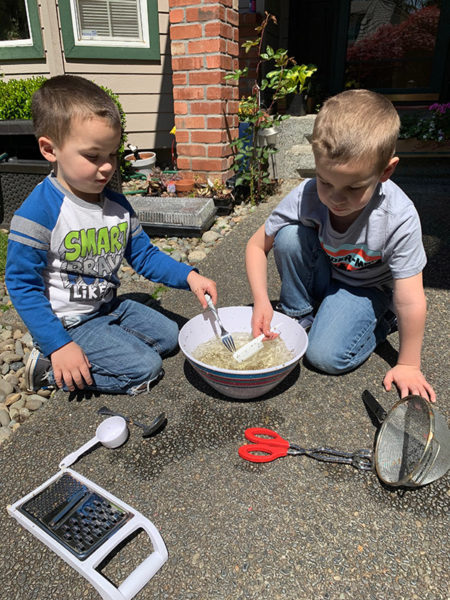 In the event that we are required to move to a distance learning environment, we have your children's needs covered.
Our distance learning model was created and tested in the Spring and our families were very happy with the results.
Each Monday, Activity Bags are ready for you to pick up for your child. Our bags include EVERYTHING your child needs to be successful for the week. Some things they can do on their own, but some they will need help on. Activities vary each week and can include:
crafts
games — along with all the pieces or supplies needed to play the game
worksheets
science experiments — along with any items needed to conduct the experiment
and so much more.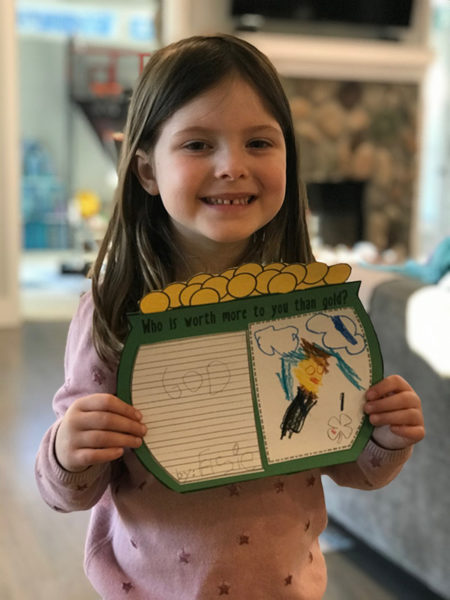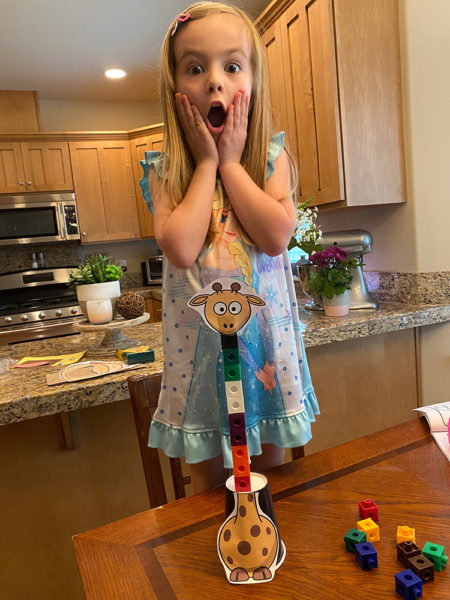 We couple our Activity Bags with videos, starring your child's teacher. Videos feature something about the letter of the week and connects to that weeks theme. They are short, up to 20 minutes, and feature story time, bible study, and greetings from their teacher and guests from the classroom.
Finally, we host a weekly zoom call, focused on the kids engaging with one another.
We have found a balance between online/computer time and doing, crafting, working, and playing time. The goal is always you and your child having a successful week, we know there's a lot to balance during these challenging days.
See our gallery below for samples of our videos, pictures of our Preschoolers hard at work, and comments from parents this past Spring during our Distance Learning time.
Parent Feedback on Distance Learning
To whom it may concern,

My daughter was enrolled in Miss Sarah's 2nd Year, PreK program for the 2019-2020 school year. Due to COVID-19, her in-person preschool year was cut short. While we all scrambled to adjust and adapt to life during such unprecedented times, Miss Sarah embraced the "new normal" with transparent communication and a passion to continue educating our children to the best of her ability. 

Miss Sarah quickly came up with plan that not only allowed our kiddos to continue learning safely, but remain actively engaged in learning and motivated to continue building a solid educational foundation. As a parent, I was extremely pleased with the efficiency of this new learning platform. Zero learning time was wasted as weekly "bags" of learning materials were quickly created, lesson plans were thoroughly written (literally anyone could pick them up and follow them easily) and daily and weekly videos were thoughtfully recorded. 

As a kindergarten teacher, I was prepared to help my daughter continue learning at home. However, being responsible for my own students while navigating new learning platforms myself, I was overjoyed at the way Stepping Stones handled the challenge of distance learning. While I thought it was nearly impossible to complete successfully with my kindergarteners, I was pleasantly surprised at how resilient and confident my preschooler was thanks to all of Miss Sarah's hard work. 

It is not lost on me the amount of work that went into each weekly bag. From day one, parents were given clear instructions as to how and when they could safely access student materials. Each child had a clearly labeled bag complete with EVERYTHING needed for a full week of instruction across all subject areas. Manipulatives, worksheets, games, materials for art projects and science projects, etc were always included in each bag. Never did I have to run to the store or scrounge around my house to gather necessary supplies. Full lesson plans were also included each week. As stated above, they were clearly labeled and so thoroughly written (including pictures and website links) that any parent could easily follow them. While each family was encouraged to complete activities at their own pace, the lesson plans made it easy to make sure I was covering all subject areas, while doing my best to recreate lessons my daughter would have been doing if in class with Miss Sarah that day. 

In addition to quality materials and plans, Miss Sarah would send daily videos to each family. These videos were not only informative, but interactive as well. My daughter would look forward to these each morning as they provided a much needed "connection to" Miss Sarah when in-person contact was not possible. During these videos Miss Sarah would provide instruction, read stories, sing songs, conduct bible lessons and review daily lesson plans. I also want to note, Miss Sarah frequently sent "bedtime story" videos- which were a huge hit with her students and their parents alike!

Communication between families during the spring was not only necessary for parents, but for the relationships between the students and Miss Sarah during a tough adjustment in daily life. Miss Sarah would conduct weekly Zoom calls which my daughter loved. She was able to visit and see her classmates and share activities and information with some of her favorite people- her friends and her beloved preschool teacher. Sarah also went above and beyond to conduct individual Facetime and phone calls, frequently added handwritten notes to students in the weekly bags, and even visited each kiddo at their home- socially distanced, of course! These acts may seem small, but made a huge impact on my daughter. To this day she still talks about when "Miss Sarah came to her house and gave her silly string", has her notes taped up on her desk and laughs about the things her classmates did and said during their Zoom meetings. 

While distance learning is not an ideal situation for any learner, young or old, the safety of our students and staff is of the upmost importance and I fully believe Stepping Stones did absolutely everything to make the very best of a tough situation. I fully intend to implement Stepping Stone's way of providing both materials and instruction with my own students as we embark on another year of distance learning. My husband and I are so thankful for our daughter's experience at Stepping Stones and highly recommend it to any parent looking for a quality education (whether in person or online) for their child. My colleagues and I always say that we can tell the students who "come from Stepping Stones" as their skill set is high, their behavior and academic foundations are solid and their passion for learning is fully engaged. 

We love Miss Sarah and the Stepping Stones program and look forward to the day our son will attend.

 Jessica Nilsen
As most parents, we felt sheer panic, sadness, and fear when COVID-19 hit mid school year 2019/2020. We were in our routine. We loved our school. Our kids were happy, and we were blind sided to say the least. 

We had two kids at Stepping Stones during this time. Stepping Stones went above and beyond to ensure we were up to date on any plans and thoughts they had. 

Almost immediately they had a plan and implemented it. Every Monday we would be given a packet (following proper social distancing of course). The packets were made up of so many activities, work sheets, games, and in depth day to day instructions of what to do, how to do it, and when to do it. We also received personal videos from the teachers multiple times a week. They continued doing Chapel through remote learning, sang songs, and even did science experiments. They did this all while 100% following proper social distancing. They never failed to show how much they loved and cared for their students even if it was through a screen. They made it easy to do the work when we had time as a family during the week as my husband and I both work full time. 

We are so thankful for the quick thinking and genuine love the teachers here have for all of the students. We have our youngest enrolled again for this upcoming school year regardless of what it brings. We trust Stepping Stones to provide us with the tools needed for success. 

Sincerely, Nichole Shervanick A Local Gig Harbor Mom